Starting last night at 10pm, I entered Spy-Fi heaven and will be there every Sunday evening via my DVR. What is spy-fi heaven for me? Why just take a look at the banner image and give it a click. Here in the US (not sure about the rest of the world), the
MeTV
network is showing the classic spy-fi television series
The Man From U.N.C.L.E.
Growing up in the 60s, I was a Cold War spy-fi show and movie junkie. (Back then, my dad was a real life spy with the CIA and traveled the world for months on end, though he always denied that he was a spy of course.) I loved many of those shows. They fueled my young imagination. But UNCLE always had a special place for me. Though I hated to read (ironic considering that I'm now an English instructor), I loved my UNCLE novels and comic books.
I've been waiting since the 1970s to see the show again. Now I get to watch it with my son, which will be a blast. Last night was the first episode, which is fairly weak. If you missed it, Amazon Prime Streaming shows it for free.
Gaming Spy-Fi
So if I love(loved) those shows, why not game spy-fi? Oh trust me. That is something I have been longing to do for a long time, but I was still trying to get over my dad's death at the time. Spy stuff is so tied up with my memories of him. But late this summer I finally came to terms with his passing away. It was like I suddenly woke up from a three-year slumber. Anyway...
As for rules, I've been sitting on the
7TV rulebook
and some expansions for a while now. I also have most of the 1980's Victory Games James Bond RPG books. I have a bunch of Pulp rules as well. So I got that covered. I just have to decide what scale miniatures.
I love the 28mm figures out there, of which there are many possibilities. I like them all, but cost can be off putting. For example, Crooked Dice miniatures are great but a bit expensive at times. I came within a cat's whisker of buying the entire Copplestone Kiss Kiss Bang Bang line the last time he ran a sale on it, but I was not emotionally ready to go there at the time. Terrain in 28mm also is always a bug-a-boo, not so much the cost but the space needed for storage. But the figures are so cool. Ah...the classic dilemma!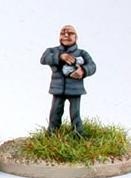 I like 15mm figures, but it seems there is a limited selection out there. Khurasan has their small spy-fi line that they just don't seem to be expanding. I'd have to research 15mm spy-fi figures more, but I imagine it would be harder than doing 28mm. Any suggestions here would be welcome.
So we'll see what happens. I need a fresh new project to work on so I can get out of my rut. (Ok, I have my 15mm Quar to work on but you know what I mean.)